Mr. Qaiser Nawab Zada Khattak (YP4-09-KP05) makes history by being elected as the first ever male Deputy Speaker from the Green Party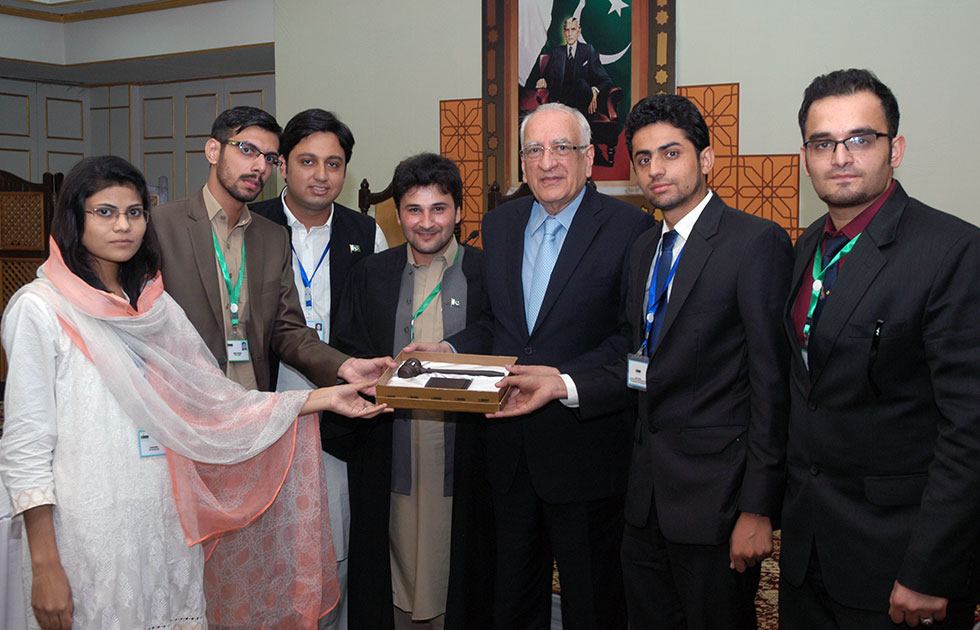 October 02, Islamabad; As a result of the Elections held today, first time ever in the history of Youth Parliament Pakistan a male Deputy Speaker,
Mr. Qaiser Nawab Zada Khattak
(YP4-09-KP05) was elected by the Members of the fourth session. Mr. Khattak is also the first ever Deputy Speaker being elected from the Green Party.
Mr. Saifullah Hassan Rana (YP4-51-SINDH11) got elected as Leader of the House & Mr. Emaad Durrani (YP4-03-BALOCHISTAN03) as Leader of the Opposition.
Following the same format as done in previous sessions of 7th Youth Parliament Pakistan, the Members, apart from engaging in the election process, were briefed by senior subject specialists on important Modules.
Major functions of the Federal & Provincial Assemblies, Composition of National & Provincial Assemblies including sizes of the constituencies were some of the aspects on which veteran Politician & Expert Senator (Retd.) Javed Jabbar shed light on during his address to the young Members on 'Parliament & Provincial Legislatures'. He also underscored the importance of why and how public representatives should discharge their duties effectively and what key reforms are required in revolutionizing legislatures and legislative responsibilities in Pakistan. Additionally, he also accentuated the working of the Parliament.
Mr. Ahmed Bilal Mehboob, President PILDAT during a lecture on Electoral Reforms analysed as to why electoral reforms were compulsory in Pakistan. He elaborated the following points:
Returning officers and the Polling staff should be trained effectively.
Number of Polling stations across Pakistan should be increased and made permanent.
A legal cover should be provided on the strict compliance of electoral code of conduct.
The ECP should strengthen system of constituency monitors.
Parliamentary Committee on Electoral Reforms should expeditiously complete its work.
Moreover, Election Tribunals' Decisions identified many flaws that need to be addressed.
Later, today Mr. Shahid Hamid, Senior Advocate, Supreme Court of Pakistan; Former Governor Punjab; Former Federal Minister broadly outlined the key features of the Constitutional history of Pakistan. Mr. Shahid Hamid also held an interactive session with the young Members.
Earlier today, the Members were given an orientation about the working and Rules & Procedures of the Youth Parliament Pakistan by Ms. Aasiya Riaz, Joint Director PILDAT.
The Youth Parliament Pakistan is an initiative conceived, planned and facilitated by PILDAT.
The 7th Youth Parliament Pakistan is supported by the Danish International Development Agency, Government of Denmark as recognition of the importance of young people's involvement in democracy and democratic practices.